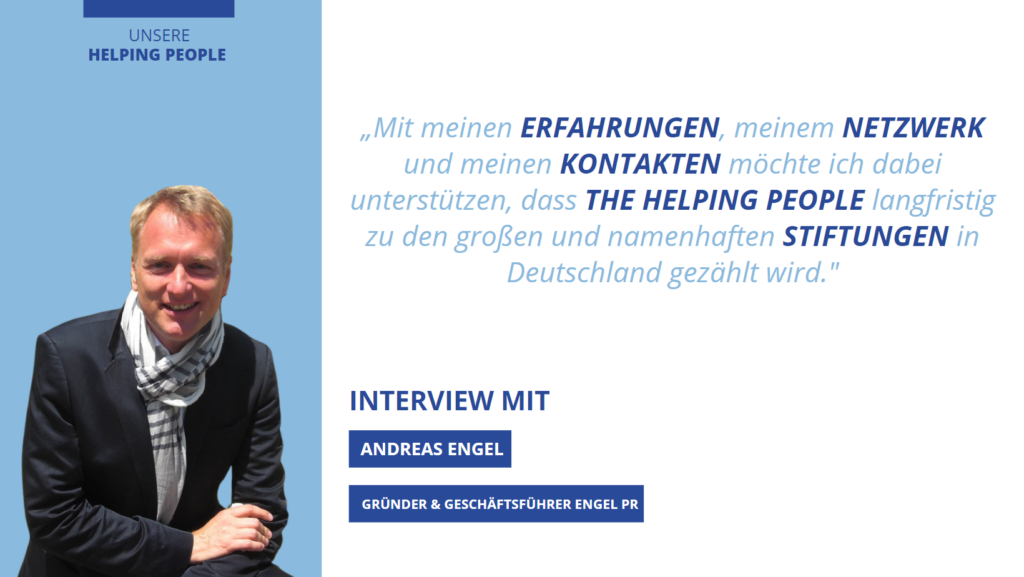 interview mit Mit Andreas Engel - gründer und geschäftsführer Engel PR
1. Hallo Andreas, du bist das neuste Mitglied der HELPING PEOPLE Familie. Erzähle uns bitte etwas zu deiner Person?

Andreas Engel: Hallo zusammen und danke für die Möglichkeit, mich als HELPING PEOPLE zu engagieren. Ich heiße Andreas Engel und bin Gründer sowie Geschäftsführer von Engel PR in Berlin. Ich habe in den Neunzigern als Chefkorrespondent der "Welt" gearbeitet, bin anschließend zur Burda gewechselt und habe dann Engel PR gegründet. Meine große Leidenschaft ist maßgeschneiderte und wertschöpfende Kommunikation – aber ich brenne auch für soziales Engagement.
2. Wieso engagierst du dich bei THE HELPING PEOPLE?
Andreas Engel: Mich hat es immer begeistert und erfüllt, anderen Menschen zu helfen. Unter anderem engagiere ich mich bereits direkt in Berlin in einem Projekt für geflüchtete Menschen. Als Marian und ich dann zusammengekommen sind, war mir klar, dass ich auch gerne meine Fähigkeiten bei THE HELPING PEOPLE einbringen möchte. Der Spirit der Stiftung war einfach ansteckend und die Vision ist großartig!
3. Welche Rolle spielen wirksame Öffentlichkeitsarbeit und Marketing für den Bereich der gemeinnützigen Organisationen und wie kannst du dort unterstützen?
Andreas Engel: Gutes sowie zielgruppenspezifisches Marketing sind im Bereich NGOs von ganz wesentlicher Bedeutung. Der Spendenmarkt ist ebenso heiß umkämpft wie der klassische Wirtschaftssektor. Folglich ist es wichtig, dass potenzielle Spender:innen THE HELPING PEOPLE kennen und vor allem in die Arbeit und die damit verbundene Wirkung vertrauen. Durch meine Erfahrungen, mein Netzwerk und meine Zugänge möchte ich dabei unterstützen, dass THE HELPING PEOPLE langfristig zu den großen und namenhaften Stiftungen in Deutschland gezählt wird.
4. Andreas, was unterscheidet für dich THE HELPING PEOPLE von anderen, bereits etablierten Stiftungen?
Andreas Engel: THE HELPING PEOPLE ist einerseits extrem gut organisiert und strukturiert, andererseits unheimlich agil und trendorientiert. Das bedeutet eine gesunde Mischung aus Souveränität und Innovation für das Stiftungsleben. Ich denke, genau das unterscheidet THE HELPING PEOPLE von anderen gemeinnützigen Organisationen. Ein weiterer Pluspunkt ist die qualitative und transparente Kommunikation sowohl mit den Spender:innen als auch Projektpartner:innen. Wie bereits angesprochen schafft und erhält dieses Vorgehen Vertrauen und sorgt damit für wichtige Vorteile im Bereich des Fundraisings.