interview mit Mit Maik Käbisch - gründer und geschäftsführer der covado gmbh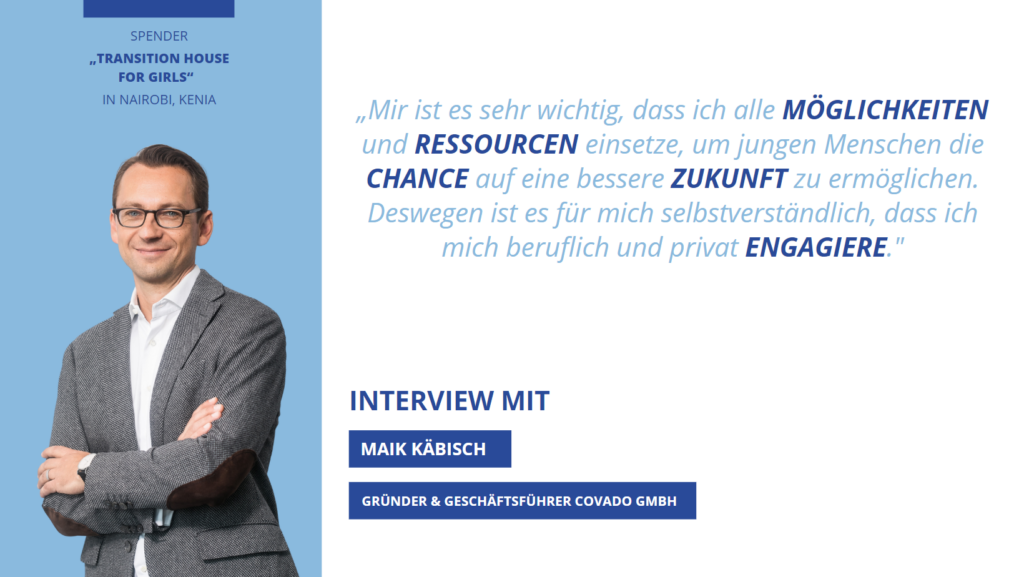 Lieber Maik, schön, dass wir dich als HELPING PEOPLE vorstellen dürfen. Kannst du uns ein wenig zu deiner Person erzählen?

Maik Käbisch: Vielen Dank und es ist mir eine große Freude im Kreise der HELPING PEOPLE dabei zu sein. Ich bin Gründer und Geschäftsführer der COVADO GmbH. Ich begleite Unternehmer, Unternehmen und Institutionen, wie zum Beispiel die THE HELPING PEOPLE FOUNDATION, bei der strategischen Planung und Erreichung der individuellen Ziele. Ich bin außerdem als Mediator tätig und wirke in verschiedenen Aufsichtsräten sowie Gremien mit.


Die COVADO GmbH ist bereits eine HELPING COMPANY – wieso engagierst du dich zusätzlich noch privat bei THE HELPING PEOPLE?

Maik Käbisch: Mir ist es sehr wichtig, dass ich alle Möglichkeiten und Ressourcen einsetze, um jungen Menschen die Chance auf eine bessere Zukunft zu ermöglichen. Deswegen ist es für mich selbstverständlich, dass ich mich sowohl im Rahmen meiner Funktion als Gründer und Geschäftsführer der COVADO GmbH als auch privat als Maik Käbisch engagiere.


Sowohl du als auch die COVADO GmbH unterstützen mit einer großzügigen Spende unser Jahresprojekt 2023, das Transition House For Girls in Nairobi in Kenia. Wieso hast du dich für dieses Projekt entschieden?

Maik Käbisch: Die Situation für junge Mädchen auf den Straßen in Nairobi ist dramatisch. Sie erleben jeden Tag Gewalt sowie extreme Armut und müssen ums Überleben kämpfen. Judith hat mir sehr ausführlich von ihrem Projektbesuch in Nairobi berichtet und welche Veränderung das Transition House bewirken kann. Das dahinterstehende Konzept und der pädagogisch Ansatz der Partnerorganisation Immanuel Afrika haben mich überzeugt. Ich bin mir sicher, dass wir mit dem Transition House jungen Mädchen eine Zukunft schenken werden.

 

Maik, wieso hast du dich für eine Zusammenarbeit mit THE HELPING PEOPLE entschieden? Was macht den Unterschied gegenüber anderen gemeinnützigen Organisationen aus? 


Maik Käbisch: An erster Stelle steht für mich die enge, vertrauensvolle und transparente Zusammenarbeit. Judith und Marian haben mich sehr gut über anstehende Spendenprojekte aufgeklärt und mir die Bedeutung meines Engagements aufgezeigt. Ich kann mir sicher sein, dass jeder gespendete Euro dort ankommt, wo er wirklich etwas nachhaltig bewirkt. THE HELPING PEOPLE agiert sehr serviceorientiert gegenüber den Spendern, egal ob Klein- oder Großspende. Außerdem wird großen Wert auf die fachliche Auseinandersetzung mit den Hilfsprojekten gelegt – die Auswahl der Partnerorganisationen ist sehr versiert und dadurch äußerst effektiv.